The Oklahoma Dental Hygienists' Association hosted its third annual Mighty Mouth 5K and Fun Run on February 24, 2018. Thanks to the participants and sponsors, we had an extremely successful event and raised enough money to make a huge difference in our community!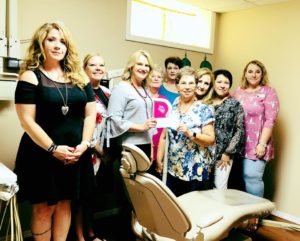 Funds from the 2018 event were donated to the Hope Dental Clinic. Tina Tuck, representative for the Oklahoma Dental Hygienists' Association, presented a grant check to President, Neva Pyatt, for $3,843.97 to help with operations of the Hope Dental Clinic! This organization provides much needed dental care for the underserved. 
Part of last year's funds were used to purchase portable dental chairs which the ODHA will use and make available for use for public health projects. If interested in using these portable chairs, please contact our ODHA President, Donna Wood, for more information at donna-wood@ouhsc.edu. 
The 2019 Mighty Mouth event will be announced here and on our Facebook page once we have more information.